Microsoft NAV Licence Cost
Local License (on-premise)
When you buy Microsoft Dynamics NAV, you can install it on a corporate server and leverage the internal authentication system to guarantee the best security. An on-premises licence is the ideal solution for those companies who already have an internal IT infrastructure and want to take further advantage from it.
There are 2 modules that can be purchased: Starter Pack and Extended Pack.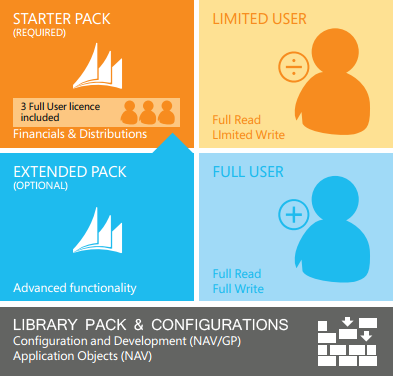 Microsoft Dynamics NAV (Navision) Starter Pack: it's conceived for small and medium-sized businesses, it offers a quick and convenient start to get into work with Microsoft Dynamics NAV.
This version includes 3 concurrent Full Users.
Microsoft Dynamics NAV (Navision) Extended Pack: it extends the features and functionalities of the Starter Pack by covering the Production, advanced Stock and Professional Services areas.
This version includes 3 concurrent Full Users.
Additional Users: the licensing model followed by Microsoft Dynamics NAV 2016 has 2 types of additional users.
A Full User licence guarantees a complete access to the user to all features covered by the licence, in both read and write mode. Access is permitted by means of the Windows client, the Web client and, Microsoft Dynamics NAV 2016 only, with the Microsoft SharePoint client or in any other mode that uses APIs, including Web Services.
While a Full licence guarantees total access in write and read mode, a Limited License has some restrictions in write mode. Read mode is still unlimited. Access options include the aforementioned ones, including the Windows client.
This license is intended to provide clients with a lower cost alternative and to extend the use of the ERP solution to users that just need it for read-only operations.
| | | |
| --- | --- | --- |
| Dynamics NAV | Quantity | Unit Price (€) |
| Starter Pack NAV License (3 full users) | 1 | 3.750,00 |
| Extended Pack Pack NAV License (3 full users) — to be added to the previous package | 1 | 7.500,00 |
| Maintenance starting with the first year (16%) | | |
---