Dynamics 365
What is Dynamics 365 Business Central?
Microsoft Dynamics 365 Business Central is the SaaS version of Dynamics NAV, that is, the online offering of the Dynamics Nav 2018 ERP system with all its features.
Is it available in Italy?
Yes, it's available in Italy as well as in 13 other Countries starting by the spring of 2018. It replaces the previous online version called Dynamics 365 for Finance and Operations, aka Business Edition.
How many versions of Dynamics 365 Business Central are there?
Dynamics 365 Business Central is available in two versions: Essential and Premium.
Essential Licensing:
The Essential Licensing covers the following modules:
ACCOUNTING MANAGEMENT
General Accounting;
Budget;
Banking and reconciliation;
Feedback;
Dimensions;
Assets;
Multi-currency.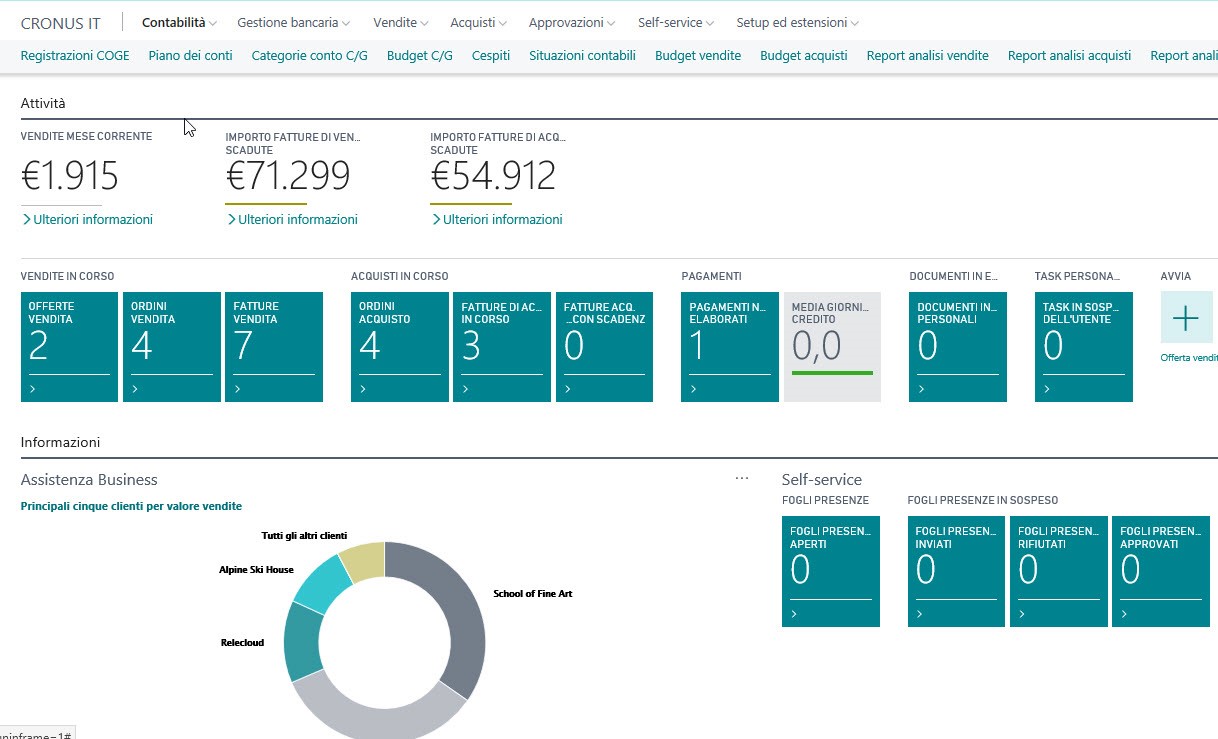 CRM
Contacts;
Opportunities;
Campaigns;
Dynamics 365 Sales integration.

SUPPLY CHAIN MANAGEMENT
Purchasing and sales orders management;
Goods reception and shipping management;
Stock management.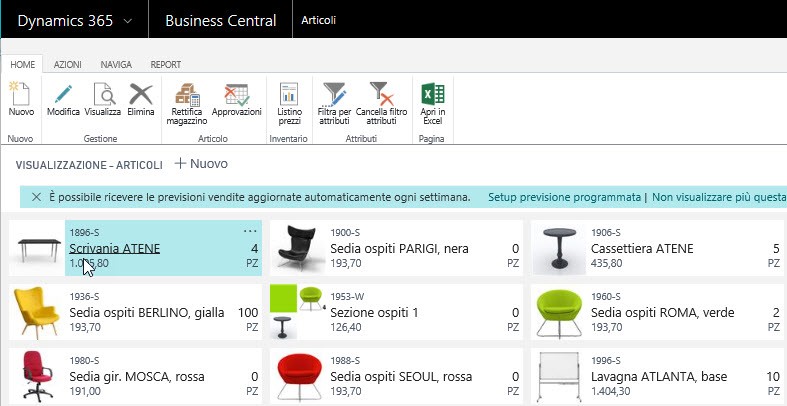 HUMAN RESOURCES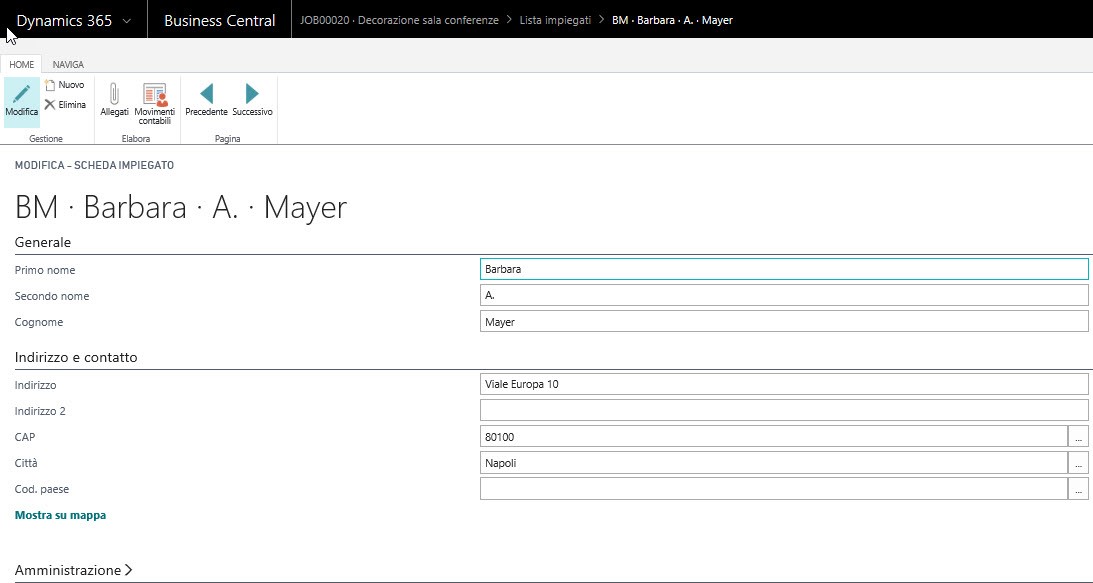 ORDERS MANAGEMENT
Resources;
Orders;
Time Sheet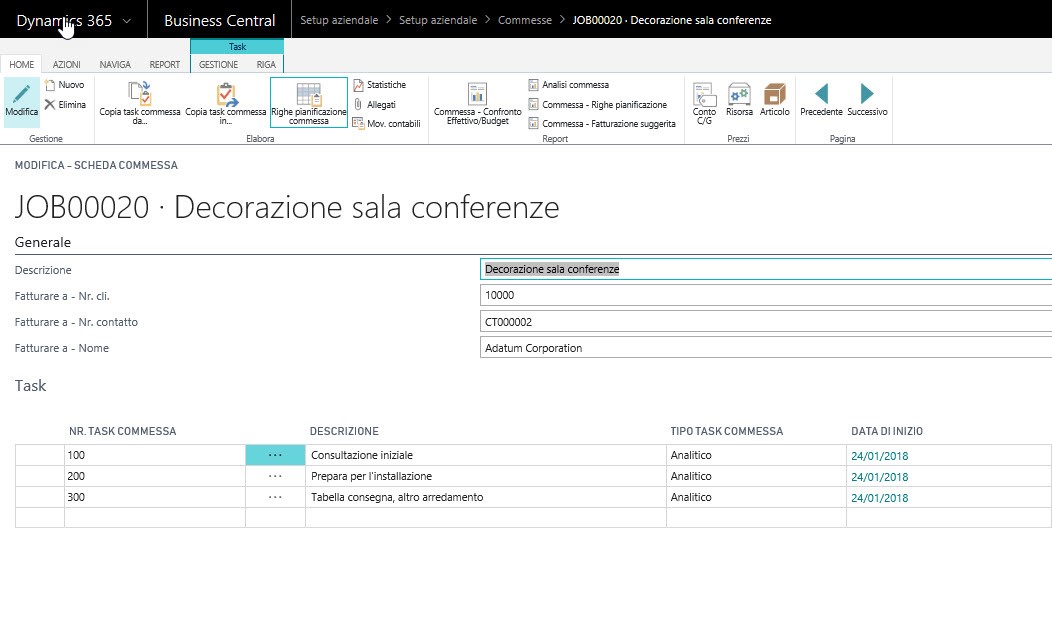 Premium Licensing:
The Premium Licensing covers all the modules covered by the Essential Licensing plus the following modules, thus providing in a Cloud subscription all the features available in NAV:
ASSISTANCE AND SUPPORT
Support orders;
Articles in assistance;
Assistance contracts;
Resource planning.
PRODUCTION MODULE
Production orders;
Material Requirements Planning (MRP);
Bills of materials and Cycles;
Areas and centres of work.
How much are the two Dynamics 365 Business Central versions?
In order to use the product, the client must subscribe to a full license at least, be it Essential or Premium. Dynamics 365 offers a single Subscription License model (SL) and it is nominal (named user). There are no mixed licenses in terms of full users: users are either "essential" or "premium".
Full Users:
A full user has access to all features within the system according to its level – Essential or Premium.
Essential Licensing: € 59,00 per user per month
Premium Licensing: € 84,30 per user per month
Additional users:
An additional user can be compared to the traditional user which has limited capabilities, like reading, adding sales offers or time-sheets. Typically, an additional user accesses the ERP system for reporting activities.
Team Member: 6,8 € per user per month.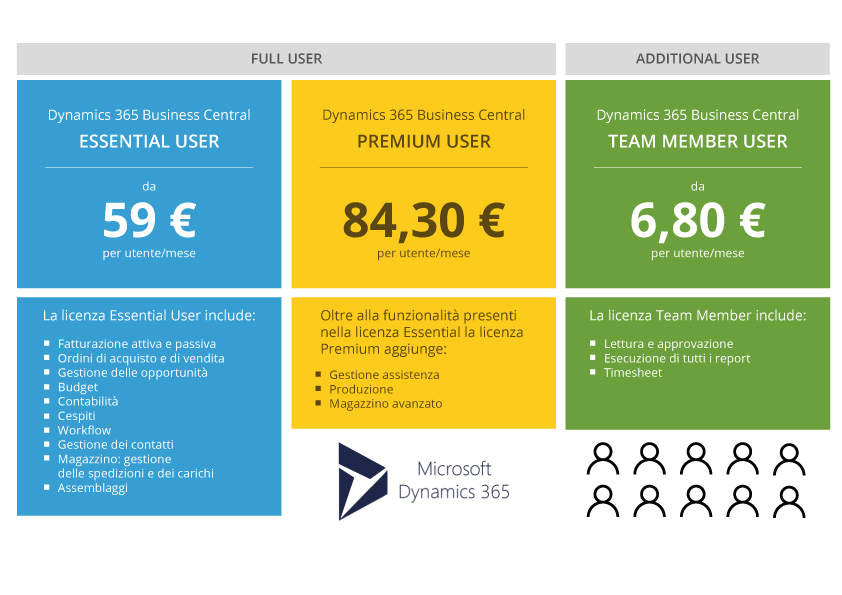 Is there a maintenance fee?
No, the monthly fee includes everything and the products gets automated updates, thus avoiding the need of migrations between different versions.